Press Releases
COMMUNICATIONS WORKERS OF AMERICA SHOT WHILE ON THE JOB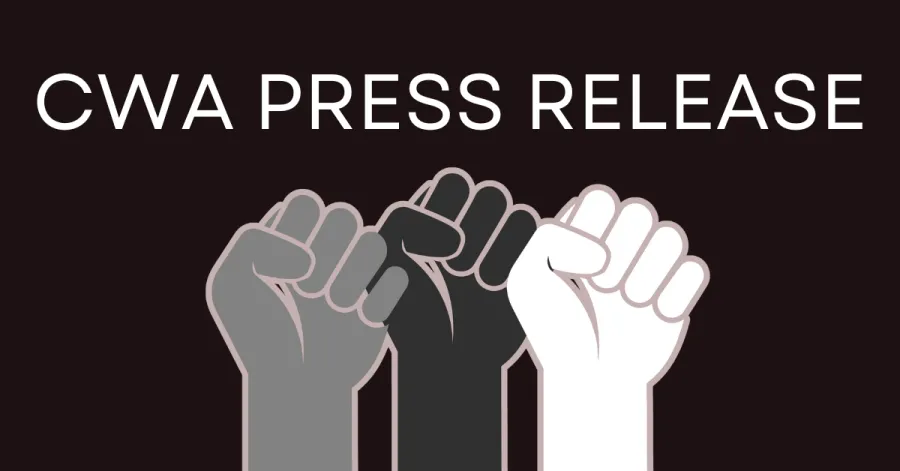 For Immediate Release
October 26, 2023
For More Information Contact:
Debora M. Hayes, Area Director or Salvator Falzone, President
Communications Workers of America CWA Local 1186
C-716-445-4609 C-716-863-6042
 
COMMUNICATIONS WORKERS OF AMERICA SHOT WHILE ON THE JOB
CWA would like to confirm that three members of our Local 1186 were shot today while they were at work. The victims, employees of the Buffalo Sewer Authority, were shot while driving a work vehicle on New York Interstate-190.
The 150 members of the union are in a state of shock and heartbroken over this horrific act of violence. They are mourning the death of one of the victims and actively supporting the two surviving members and their families.  
CWA Local 1186 President Salvatore Falzone stated, "Today, our membership has suffered a tragic loss while we are still mourning the unexpected passing of one of our members just last week. Our coworkers who were violently attacked while working, are men who are loved and respected by their coworkers for their hard work and dedication to not only work but to each other. The fact that they are so young is not to be overlooked either. As we continue to mourn the loss of one of our members today, we also look forward to a speedy recovery for our other coworkers. We stand ready and willing to support our members and their families through this tragic time. We would like to thank Mayor Byron Brown, the Buffalo Police Dept, the NYS Troopers, and the administration of the Buffalo Sewer Authority for their help in working with us throughout this.
CWA District 1 Vice-President Dennis Trainor also commented on the tragedy, "It is incomprehensible that Buffalo has again been affected by a senseless shooting. CWA will do everything in our power to support our members who work for the Buffalo Sewer Authority including the victims and their families".
COMMUNICATIONS WORKERS OF AMERICA SHOT WHILE ON THE JOB
CWA ANNOUNCES FINAL ROUND OF LEGISLATIVE ENDORSEMENTS IN NEW JERSEY
CWA ENDORSES SUE ALTMAN FOR NJ 7TH CONGRESSIONAL DISTRICT