CWA Healthcare Victories in New York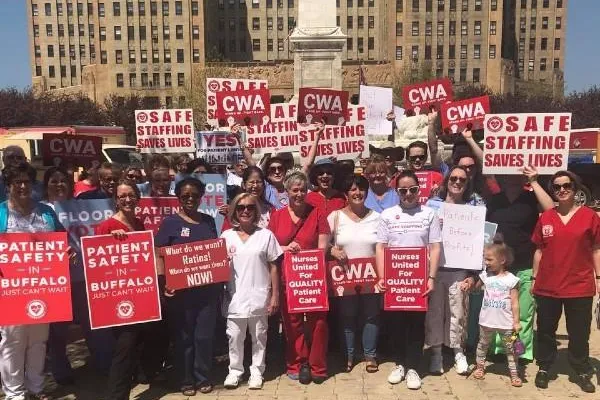 We've had major victories at the bargaining table and in New York State legislation:
2023 Implemented safe staffing committees throughout the hospitals we represent in NY State and trained hundreds of members to be staffing captains to teach others about the law and keeping our hospitals accountable.
2022 Won billions of dollars in the NYS Budget for financially distressed hospitals.
2021 Won landmark Safe Staffing legislation in New York, establishing a process for setting and enforcing safe staffing minimum standards at hospitals and nursing homes.
2021 CWA Local 1133 members at Mercy Hospital in Buffalo won a 40-day strike and, along with Local 1168, bargained for staffing ratios that set the bar for healthcare worker contracts around the country.
2020 Pushed for the use of the Defense Protection Act during the height of the pandemic to increase production of PPE and ventilators.
2014 Won the New York State Safe Patient Handling Act, establishing hospital policies to protect staff and patients. 
2010 Won legislation to make it a felony to assault a nurse as part of New York State Penal Code §120.05.
2009 Fought for legislation to ban hospitals from requiring overtime for nurses except in cases of declared emergency.
When we stand together as a union, we can WIN for workers!