Press Releases
Voters Reject Trump Playbook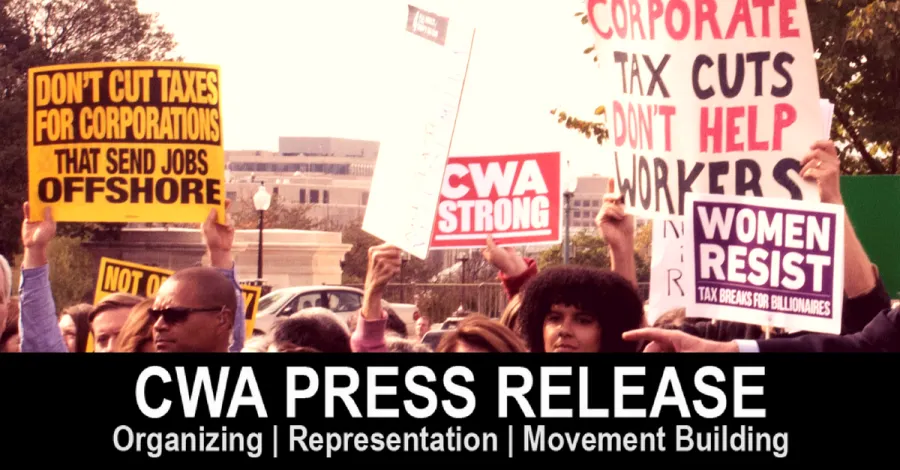 Statement by Chris Shelton, president of the Communications Workers of America, on Election Day 2017
Working families were the big winners in yesterday's elections. In Virginia, New Jersey, Maine and other states, working people and progressive voters rejected the harmful policy proposals and divisive message of President Trump and Republican candidates. The Trump playbook took a big hit last night. 
In Virginia, voters said a resounding "no" to the hate-filled, sleazy, and negative campaign of the Republican challenger, electing Ralph Northam governor, Justin Fairfax lieutenant governor, and Mark Herring attorney general.
In a big turnaround that surprised pundits, voters elected at least 15 representatives to the House of Delegates who will put the concerns of working people and ordinary Americans first, and not be beholden to corporate and right wing interests.
Ralph Northam will help Virginia's working families succeed, by ensuring fair wages and real opportunity to get a good education. He rejects the trickle-down economic and tax policies that so many Republicans are pushing.
CWA members throughout the state walked neighborhoods and staffed phone banks to help turn out the vote for state delegate candidates as well as Northam, Fairfax, and Herring.
By electing Phil Murphy governor, New Jersey voters have elected a champion for working and middle class families, something the state hasn't seen for eight years.
We know that Phil Murphy will listen to and work hard on behalf of working people. He has outlined a program that will create a stronger and fairer economy for everyone. That's what the voters of New Jersey deserve.
Phil Murphy understands that the role of government isn't to enrich corporations and the wealthy, but to work for all of us, by ensuring that our schools have proper funding, that working people aren't exploited, and that all our communities thrive. 
CWA members in New Jersey canvassed door-to-door and mobilized a massive get-out-the-vote effort to elect Phil Murphy governor. We're ready from day one to join forces with him and accomplish good things for the people of New Jersey.
In Maine, voters rejected the efforts of Trump and Governor LePage to undermine the Affordable Care Act and deny health benefits to as many Americans as possible by voting to extend Medicaid health care coverage to at least 80,000 more Maine residents. LePage vetoed several measures by the state legislature that would have provided the health care benefits; yesterday the voters set LePage straight.
Republicans plan to pay for huge tax breaks for corporations and the wealthy by cutting programs like Medicaid, Medicare and others that working families rely on. Voters made clear last night that they reject this approach, and will make their voices heard again in 2018.
COMMUNICATIONS WORKERS OF AMERICA SHOT WHILE ON THE JOB
CWA ANNOUNCES FINAL ROUND OF LEGISLATIVE ENDORSEMENTS IN NEW JERSEY
CWA ENDORSES SUE ALTMAN FOR NJ 7TH CONGRESSIONAL DISTRICT