News
Political Action Updates, March 2023

CWAers Testify at Hearings at the New York State Capitol for Pro-Worker Legislation 
Throughout New York, CWAers from healthcare workers to graduate workers to telecom workers and more are fighting for legislation that will protect and lift up our members. With the New York State Budget being finalized this month, the time is now to make our voices heard about fiscal items that could have a huge impact on us.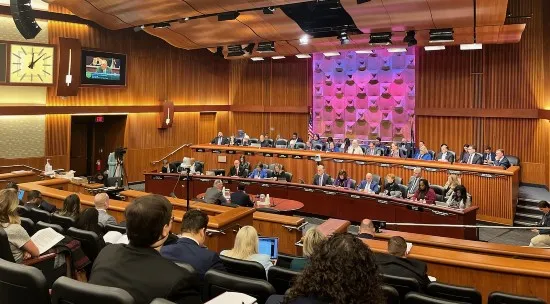 On February 27th, Local 1104 member and President of the Graduate Student Employees Union-CWA Andrew Dobbyn testified at the New York State Budget Public Hearing on Higher Education about the disastrous impact of mandatory fees on graduate workers. State University of New York (SUNY) grad workers teach classes, grade papers, and work 40-hour weeks, but earn meager annual stipends and are forced to pay fees to the university that can amount to 15-20% of their annual earnings. 
"That is pushing our members from on the brink of poverty to poverty," Andrew testified before legislators. "They are selling blood plasma, they are getting food out of dumpsters.  It is very, very bad. We are asking for a very small amount of money in the grand scheme of the SUNY budget to get people out of poverty and allow the people who do the backbone of teaching and research in this system to not have to worry about where their next meal is going to come from."
Watch Andrew's testimony here.
On February 28th, CWA District 1 Area Director Debbie Hayes also traveled to Albany to testify at the Joint Legislative Public Hearing on Health and Medicaid about the vital need for funding for our healthcare centers. It's no secret that healthcare workers have been through the wringer in the last several years as the COVID-19 pandemic exasperated deeply rooted issues within our healthcare system and pushed many workers to the brink of burnout. Our hospitals have also been pushed to the brink financially, and require a strong injection of funding from the State in order to ensure that workers - including 15,000 of our members in New York - get the support they need to do their jobs safely and effectively. 
"The most urgent crisis facing healthcare institutions and our members and our members across the state is staffing," Debbis testified. "Unsafe staffing predates the pandemic by decades, but the pandemic has brought us to the tipping point. Our members continue to carry a broken healthcare system on their backs every single day. The staffing emergency in our state requires both a short and long term response. The State must continue robust investment and incentives to get folks to join the healthcare professions. In the short term, the State must focus on supporting healthcare employers to immediately improve job conditions and raise wages in order to recruit and retain the workforce."
Watch Debbie's testimony here.
Lobby Day in New York 
More than fifty CWAers from locals across New York gathered in Albany, NY on March 8th to flood the Capitol with red and show our elected officials that we mean business! CWA members had dozens of meetings with State Senators and Assemblymembers about several vital issues that we're fighting to ensure are included in the NYS Budget, due to be finalized this month and announced in early April. 
Topics included:
Raising the minimum wage in New York from $15/hour to over $20/hour and tying it to inflation so that workers are no longer at risk of falling behind even when inflation increases.

Strong funding for financially distressed hospitals so that our healthcare members can get the support they need in their jobs and put a dent in the staffing shortage crisis that has contributed to unsafe working conditions and burnout. 

Eliminating the crushing mandatory fees that SUNY graduate workers are forced to pay in order to to their jobs.
"I even brought ramen noodles with me today, because that's all we can afford to eat," said Bradley Hershenshon, a GSEU-1104 members who is a graduate worker at SUNY Albany, in a meeting with Senator Gustavo Rivera to help illustrate the dire conditions that our GSEU-1104 members are forced into due to mandatory fees.
CWA Members Rally in Albany to Raise the Wage
In the midst of our big Lobby Day, CWAers joined hundreds of other labor and community members on the Million Dollar Staircase inside the Capitol Building to rally for raising the state's minimum wage and tying it to inflation. 
Two members of CWA Local 1120, Merry Wells and Eileen Perdomo, workers at Vassar College and Marist College, spoke during the rally and press conference about how workers should be able to make a living while working full time.
"We barely make above minimum wage and many of our coworkers are at minimum wage," said Eileen. "Our institutions are doing well and our executive compensation is millions of dollars - but we're not getting a fair share."
"The effects of minimum wage hit close to home for me​," said Mary. "I'm working at a prestigious academic institution, and I almost lost my home. I work with colleagues who've had their cars repossessed and their houses taken away from them, and they've been working for decades. That has to stop!"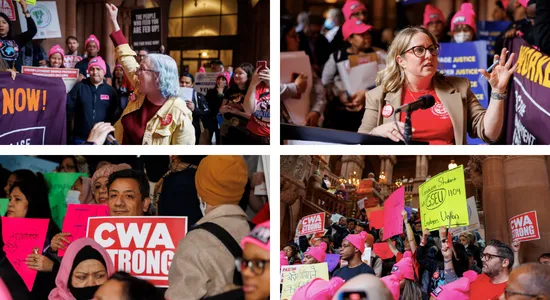 Photos by CWA Local 1104 member Sean Kennedy
CWA Members Discuss Our Reversing Runaway Inequality Training on "Organic Talk" Podcast
CWA Local 1120 members Rob Pinto and Theresa Morley joined the Organic Talk podcast on February 21st to talk about our popular and powerful Reversing Runaway Inequality training, as well as the telecommunications industry, the rights of telecom workers, and how CWA members are fighting to protect jobs and improve working conditions. 
"We grew and grew and we began to become something that was more than a strike," said Rob, on the 2016 strike by CWA members at Verizon. "It was a movement. We were talking about the 1%, we were talking about the 99%, we were talking about corporate greed. We were talking about this larger issue."
"The sad thing is - we don't know our rights," said Theresa, on the need for labor education. "When you enter the workforce, you do not know your rights. I wish they offered a labor course in high school. They don't - they exclude it. I think that would be something that would educate workers on what their rights are, because most of the people that you organize, their rights have been so demolished, and they didn't know."
Organizing Updates - Major Victory in the Gaming Industry!
CWA Local 1168 Members Rally Around Fired Worker
Bargaining Updates (and Wins!), March 2023