News
ESSENTIAL WORKERS HONORED WITH TICKER TAPE PARADE IN NEW YORK CITY

Last week, New York City held its first ticker tape parade since the COVID-19 pandemic swept across the country to honor essential workers who helped keep the city going throughout the pandemic.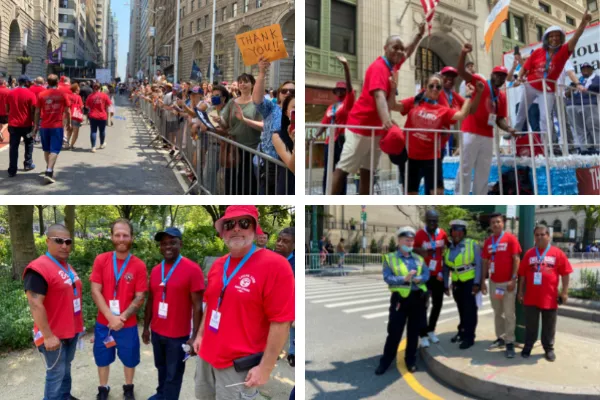 Clockwise from top left: CWA members march down the Canyon of Heroes; members and retirees from Locals 1109 and 1180 ride on a parade float; Local 1182 members in the parade stop to chat with fellow Traffic Enforcement Agents working the parade; Local 1109 members prepare to step off on the parade route.
CWA members representing several industries and Locals joined the parade alongside hundreds of other unions and city workers, from nurses to educators to sanitation and transit workers. Marching for CWA were:
Telecom workers from Locals 1101, 1106, and 1109
Nurses from Local 1104
City workers from CWA Local 1180
NYPD Traffic Enforcement from Locals 1181 and 1182
Board of Election workers from Local 1183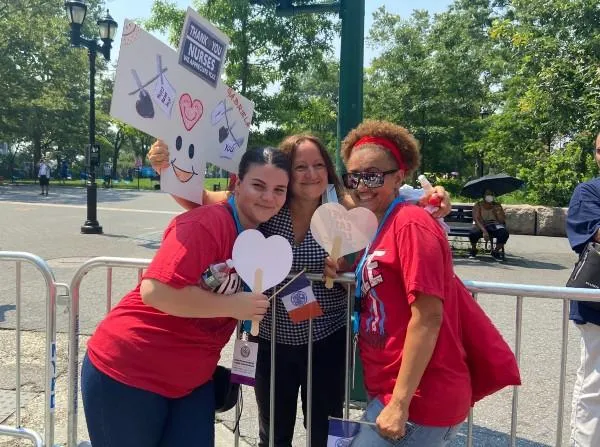 Nurses Kimberly Dore and Lavita Payton, members of CWA Local 1104, stop for a picture with parade onlooker holding a "Thank You Nurses" sign
"It felt like we were on the front lines," said Local 1104's Kimberly Dore, an Emergency Room nurse at NewYork-Presbyterian Lower Manhattan Hospital, of the worst days of the pandemic in 2020. "But the teamwork we all put together, we managed to make it through." Click here to watch Kimberly's interview and more scenes from the parade.
The parade stretched roughly one mile along Lower Manhattan's Canyon of Heroes, and grateful onlookers gathered along the route to applaud, shout their thanks, and wave homemade "Thank You" signs for CWA members and other workers.
Local 1101 and 1183 members. 1183 represents Board of Election workers who continued working throughout the pandemic to hold local, state, and federal elections.
Bargaining Updates and Victories
Solidarity is Strong in District 1
CWA Leaders Fight Back Against Anti-Union Billionaires