News
CWA 1168 Members at Kaleida Health Ratify Major Contract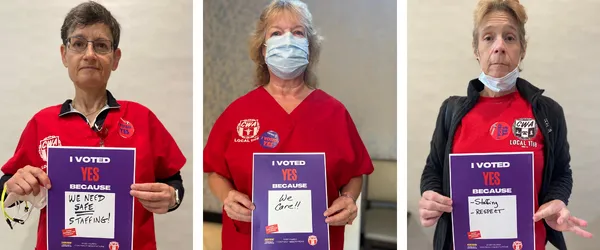 In a major victory for workers at Kaleida Health in Buffalo, NY represented by CWA Local 1168 and 1199SEIU United Healthcare Workers East voted to ratify a new three-year contract with Kaleida Health in Buffalo, N.Y. The collective bargaining agreement covers over 6,300 union healthcare workers at several hospitals and community-based clinics, with roughly half being CWA members.
"While hospitals everywhere are facing a nationwide staffing crisis, it is union members who are standing up for patients and fighting for change to address it," said CWA District 1 Vice President Dennis Trainor. "Kaleida Health workers demanded the safe staffing levels needed to ensure quality care and safety, and I could not be prouder of them for standing strong in this fight." 
"This contract is a huge win for our members who have been struggling to care for patients amidst serious staffing issues and a nationwide worker shortage. We fought hard to ensure there were no compromises made, which is a testament to the tireless efforts of our members, whose top priority has always been their patients," said Cori Gambini, President, CWA Local 1168 and a Registered Nurse.
The contract includes industry-leading wages and safe staffing ratios. The new agreement makes major strides to address the staffing crisis, including adding 500 new positions, daily staffing incentive bonuses, and a minimum 12% wage increase over three years for all workers. Kaleida will also create two new union positions in order to oversee safe staffing ratios and ensure they are adhered to, and to facilitate the improvement of working conditions within its hospitals. This victory is the result of the workers' resilience and mobilization throughout the eight months of bargaining, including rallies, pickets, online and worksite actions, as well as a strike authorization vote that was overwhelmingly passed by the membership.
WIN: CWA Local 1180 Members at Human Rights Watch Secure a Tentative Agreement After Tough Contract Campaign
Mourning the Loss of CWA Local 1186 Member Keyshawn Gault
When Unions Vote, Unions Win: Election Day 2023