News
CALL CENTER BILL SIGNED INTO LAW IN CONNECTICUT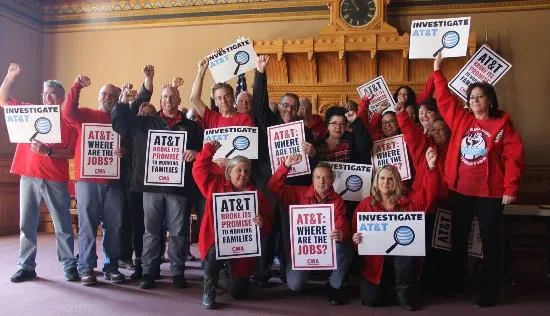 CWA Local 1298 members rallying for call center worker legislation in 2019 after AT&T closed their call center in Meriden, CT and shipped 90 jobs out of state
Huge win in Connecticut for call center workers and our communities!
After several years of CWA Local 1298 members fighting to protect call center workers and advocating to legislators with hundreds of emails and phone calls,, the Connecticut legislature finally passed The Act Concerning Call Centers and Notice of Closure on June 24th!
This bill is a major victory for our most vulnerable titles and represents years electing and partneringing with labor-friendly legislators to fight for our members.
"For too long, our state has turned a blind eye to corporations that take millions of dollars in state contracts, tax breaks, and subsidies while outsourcing jobs overseas," said Dave Weidlich, CWA Local 1298 President.
This legislation establishes notice requirements for call centers that relocate out-of-state and makes them ineligible to receive state financial support for five years after the relocation. It also requires them to remit the value of any state financial support they received over the previous five years.
Organizing Victory! Tutor Associates Join CWA Local 1180
IUE-CWA Wins Historic Agreement For More Union Jobs At GE
Every State, Every Hospital, Every Shift: New Jersey CWAers Rally For Safe Staffing!