News
Bargaining Updates - November 2023
WIN: CWA Local 1180 Members at Human Rights Watch Secure a Tentative Agreement After Tough Contract Campaign
Huge win for workers at Human Rights Watch! After two contract extensions and eighteen months of bargaining the workers - represented by CWA Local 1180 - settled a tentative agreement on November 8th for a new five-year contract. Over the last several months the members ramped up their mobilization to fight for their contract with a social media campaign, op-eds, and flooding the inboxes of Human Rights Watch leadership with hundreds of emails demanding respect at the bargaining table.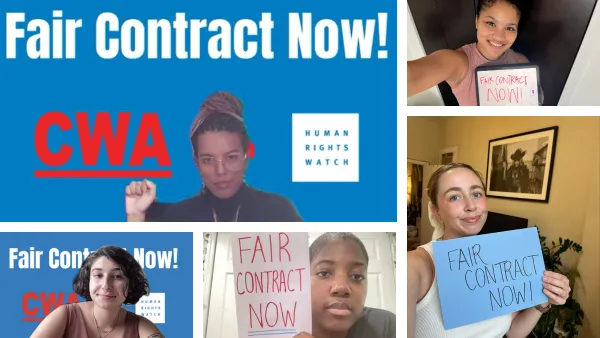 Workers at Human Rights Watch, an international non-governmental organization​, fight on behalf of children, migrants, refugees, and political prisoners. The organization is headquartered in New York City with other offices and staff based in San Francisco, Los Angeles, and Washington, D.C. - some of the most expensive cities in the country. Workers fought hard to force the organization to recognize not only the vital work that they do and long hours dedicated to the job, but also the high cost of living, and present a fair compensation package that will help retain staff.
The new agreement, which is retroactive to July 1, 2023, includes significant salary increases, higher minimum salary for all workers, increase on sick time, remote work protections, bargaining unit work protection, new language on layoffs, guarantee promotion increase, increases on salary differentials (including a longevity increase for staff over 5 years), one hour paid lunch, and more.
And the unionized staff didn't just fight for themselves - they also secured a Voluntary Recognition Agreement so that other Human Rights Watch workers who are currently non-union can organize as well. 
---
New York Times Tech Guild Workers to Company: Don't Trample On Our Rights!
CWA District 1 and Local 1101 joined members of the Times Tech Guild (NewsGuild-CWA Local 31003), the largest union of tech workers with collective bargaining rights in the country, as they walked off the job on October 30 to tell the New York Times to quit their union-busting! While the Tech Guild has been fighting for over eighteen months for their first union contract, Times management has repeatedly tried to pressure the workers to comply with its unlawful return-to-office policy. 
​
​
Times management has fought the Tech Guild every step of the way since they first announced their intention to be a union in 2021. It's a pattern of behavior by the company; that's one of the reasons why the Tech Guild is bringing attention to their contract fight to the public with their walkout.
"Our CWA District 1 Vice President Dennis Trainor stood here last December to speak to the 1,100 New York Times newsroom and advertising workers who walked out after twenty months of the company dragging their feet and refusing to bargain in good faith," said Assistant to the VP Billy Gallagher, addressing the rallying workers. "Sounds familiar, right? Almost a year later, here we are again, because it looks like this company STILL hasn't learned not to mess with the NewsGuild and not to mess with CWA!"
"Today's rally is about respect for the workers who help make the New York Times the media powerhouse that it is," said Susan DeCarava, President of the NewsGuild of New York. "We're fighting for a fair contract that protects our Tech Guild members from arbitrary and unlawful work rules. We much prefer to work with a partner across the table in good faith, but that can't happen until Times management stops violating our members' rights and labor law."
---
Cooking Up Solidarity with America's Test Kitchen Workers
America's Test Kitchen (ATK) workers, who voted in July 2022 to join CWA Local 1400, mobilized for an informational picket outside ATK headquarters in Boston on October 31st to tell the company to quit stalling and come to the bargaining table ready to settle a fair contract. 
"We've made some progress negotiating our first contract, but there has been little movement on much-needed salary increases," said Local 1400 member Lauren Robbins, a senior print production specialist at ATK. "Most of us are working our dream jobs, but for some, the financial compensation is a nightmare. I'm here to fight for everyone to be paid what they are worth."
​
​
America's Test Kitchen workers mobilized for an informational picket on October 31 - in person and online - to shed light on stalled contract negotiations with ATK leadership.​
Along with fighting for fair pay, union representatives have been negotiating to address expensive health care costs, commuting costs, understaffing, high turnover, and other working conditions that ATK had failed to effectively address.
---
CWA Local 1180-Bird Union Members Flock to Colorado to Make Their Voices Heard
Members of CWA Local 1180-Bird Union, workers at the National Audubon Society, brought their fight for a fair contract to the annual Audubon Leadership Conference in Estes Park, CO last weekend. The CWAers held rallies and educated attendees from Audubon chapters across the country about their struggle for a fair contract and how bargaining fairly would be a victory for all that will strengthen the organization.
​
The workers have been at the bargaining table for their first union contract for 20 months now, with negotiations overseen by a federal mediator since March. CWA landed a major victory in October when the National Labor Relations Board (NLRB) determined that, across four cases, Audubon violated federal labor law by bargaining in bad faith and violating the rights of its workers. Earlier this year, Audubon rolled out new, enhanced benefits only to non-union staff, while withholding the benefits from union staff, and then presented them to the union as contract proposals and urged the union to quickly accept the substandard and incomplete contract in order to access the new benefits.
​
​
"At the bargaining table, we've been fighting for the benefits that our families need, like expanding paid parental leave beyond the two weeks we currently have," said Lindsy Buckland, office coordinator for Audubon's Seabird Institute in Maine and a member of the bargaining committee. "While dragging out negotiations, Audubon expanded parental leave benefits for non-union staff but denied that benefit to us. For my coworker who had a baby this year, that is time that they will never get back with their family."
Since negotiations began, Audubon has hired Littler Mendelson, a law firm notorious for union-busting, and has at times gone months without meeting with the CWA bargaining committee. 
You can help!Click here to sign on to the Bird Union's letter encouraging Audubon CEO Dr. Elizabeth Gray, the Executive Team, and the Board of Directors to settle a fair contract.
WIN: CWA Local 1180 Members at Human Rights Watch Secure a Tentative Agreement After Tough Contract Campaign
Mourning the Loss of CWA Local 1186 Member Keyshawn Gault
When Unions Vote, Unions Win: Election Day 2023