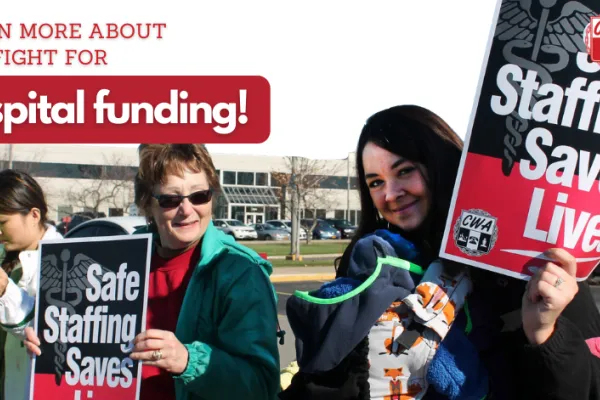 We're facing crisis staffing levels in our healthcare centers across New York State. 
The pandemic has stretched the State's healthcare system to a true breaking point - we're facing crisis-level short staffing, unacceptable patient care, and deteriorating hospital conditions. Many hospitals hit hard by COVID-19, particularly those that were forced to suspend elective surgeries again and again as they were hit by wave after wave of the pandemic, desperately need funds that will allow them to retain current workers and attract new ones.
In order to protect our healthcare workers, keep hospitals open, and ensure the best quality of care for all New Yorkers, we need a massive infusion of funds.  
What We're Fighting For
An additional $1.5 billion in the FY23 budget to strengthen hospitals that have suffered significant net operating losses due to the COVID-19 pandemic and are largely ineligible for proposed State subsidies. 

Funding should be allocated based on a formula that takes into account a hospital's total net operating losses during the pandemic, as well as the number of weeks that hospital was prohibited from elective admissions. 
This additional funding is vital to stabilize hospital budgets and enable hard-hit hospitals to pay adequate wages to attract and retain staff, as well as improve hospital conditions and patient care.