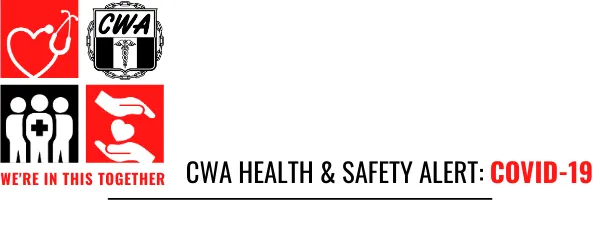 As the current COVID-19 situation evolves, things are moving at a rapid pace and situations change daily. As such, we will do our best to keep you as informed and prepared as possible.
UPDATE APRIL 28: Do you need someone to talk to about your mental health? The New York City Trauma Recovery Network is offering pro bono counseling services via teleheath to healthcare and other frontline workers in New York and New Jersey. Visit their website at www.NYCTRN.org or click here for more info.
UPDATE APRIL 6: Managing Fatigue During Times of Crisis: Guidance for Nurses, Managers, and Other Healthcare Workers
UPDATE APRIL 1: Check out the video of our Car + Virutal Rally to Demand PPE!
UPDATE MARCH 24: Take action now by signing the petition to President Trump to use the National Defense Production Act to its fullest extent in order to produce the protective equipment we desperately need.
UPDATE MARCH 23: Did you miss the Town Hall Call for CWA Healthcare Workers? Listen here. 
About the Novel Coronavirus (COVID-19) Outbreak
In December 2019, a newly identified coronavirus, known as COVID-19, emerged, spreading infection in humans.
What We Know About the Virus
A coronavirus, which is a large family of viruses that can infect animals and/or humans. COVID-19 is similar to the viruses that cause SARS (Severe Acute Respiratory Syndrome) and MERS (Middle East Respiratory Syndrome). 
By the Numbers
Cases of the virus have since been reported in more than 150 other countries on every continent. As of March 18, 2020, there have been 206,893 confirmed cases worldwide, with 8,272 deaths, while 82,889 people have recovered. 
 
In the United States, there have been more than 6,200 confirmed cases, with New York currently reporting the highest number of confirmed cases. 
New York State Laws in Response
As of March 19, 2020, New York State has enacted new laws regarding:
Unemployment Insurance
Paid Family Leave
Workers' Compensation
Emergency Paid Leave
Emergency Unpaid Leave
Click here for a summary of the New York State COVID-19 Sick Leave Law
(click to enlarge)
Our Response
CWA has been in close contact with members and all of our employers on a daily basis, and we're working to ensure that our healthcare workers are protected and can feel secure going to work and providing care. Employers must be prepared to keep you and your patients safe.
CWA has been working obtain PPE, additional testing capabilites, and safer guidelines from the CDC for weeks. We're in touch with Governor Cuomo's office and advocating on all three issues.
Read our letter to Governor Cuomo here.
Read the Union Letter to Congress signed by CWA, AFL-CIO, AFT, UAW, Teamsters, and others.
We are working to ensure that our members don't lose any wages if they're quarantined or become ill related to COVID-19.
Time and attendance monitoring and disciplines should be put on hold until this crisis is averted.
While the CDC has provided guidelines and materials, there are three pieces that we strongly disagree with them on that we want our members to be aware of:
We disagree with the CDC that a surgical mask is an acceptable alternative to a N95 respirator.

We disagree with the CDC that a healthcare provider who has been exposed to a suspected or confirmed COVID-19 case should continue to work. If you have been infected with the virus, you may be contagious before you show any symptoms for it. It is therefore strongly recommended that any worker who has been exposed should self-quarantine. 

We disagree with the CDC that the virus can't be transmitted through the air. Studies have shown that small particles may remain in the air.
CWA's priority is the safety of our members, and we're working hard to make sure that you have the most clear, accurate info for how to protect yourself, your family, and your patients during this time. We won't stop with the fight to protect our members and our patients. 
Read our CWA District 1 Healthcare Worker Alert & Priorities for more information on what we're doing right now to protect members.
Is your facility prepared? Go through the COVID-19 checklist.
Contact Your Local
Do you have concerns about your workplace or your personal safety? Contact your CWA Local:
Local 1091: 973-992-6568

Local 1101: 212-633-2666  |  718-823-7330

Lcoal 1103: 914-939-8200

Local 1104: 516-420-8390

Local 1111: 607-733-1111

Local 1118: 518-869-1118  |  866-625-1118

Local 1122: 716-633-2211

Local 1123: 315-476-1123

Local 1126: 315-736-1126

Local 1133: chcovid19@cwa-union.org

Local 1168: 716-639-1168  |  office@cwa1168.org

Local 1180: 212-226-6565
Resources
Zhejiang University Hospital Handbook of COVID-19 Prevention and Treatment
OSHA Guidance on Preparing Workplaces for COVID-19 
WHO Report on Home care for patients with COVID-19 presenting with mild symptoms and management of their contacts (March 17)
WHO Report on Infection prevention and control during health care when novel coronavirus (nCoV) infection is suspected (January 25)
Crisis Services & Coping With Stress
Managing Fatigue During Times of Crisis: Guidance for Nurses, Managers, and Other Healthcare Workers
Managing Anxiety in an Anxiety-Provoking Situation
Coping With Stress During Infectious Disease Outbreaks
Taking Care of Your Behavioral Health: Tips for Social Distancing, Quarantine, and Isolation
COVID-19 and Your Mental Health
Resources to Support Mental Health and Coping with the Coronavirus
How Can First Responders Manage Sleep And Stress?
If you or someone you know is in urgent need of someone to speak to, there is help available. 24-hour access to trained disaster crisis counselors providing supportive counseling, including information on common stress reactions and healthy coping:
National Disaster Distress Helpline: 1-800-985-5990  |  Text: "TalkWithUs" to 66746
National Text Line: Text "Got5" to 741 741 to text with a counselor
Erie County Crisis Services: 716-834-3131
Erie County Addiction Hotline: 716-831-7007
The New York City Trauma Recovery Network is offering pro bono counseling services via teleheath to healthcare and other frontline workers in New York and New Jersey. Visit their website at www.NYCTRN.org

 or 

click here for more info

.
Take Action
As things continue to change and move rapidly with this developing crisis, there are several ways that you can take action right now on both the State and Federal levels.
President Trump has the power to make a difference but has failed to do what needs to be done to keep workers and patients safe. Through the National Defense Production Act (NDPA) the President can mandate the immediate production of all the personal protective equipment, tests, and ventilators we need to respond to the crisis and protect healthcare workers — but so far he's refused to do so and instead has announced vague and confusing measures to "leverage" manufacturers into producing insufficient amounts of supplies. Sign the petition now to tell the President that he MUST use the NDPA to its fullest extent to get us the equipment we need!